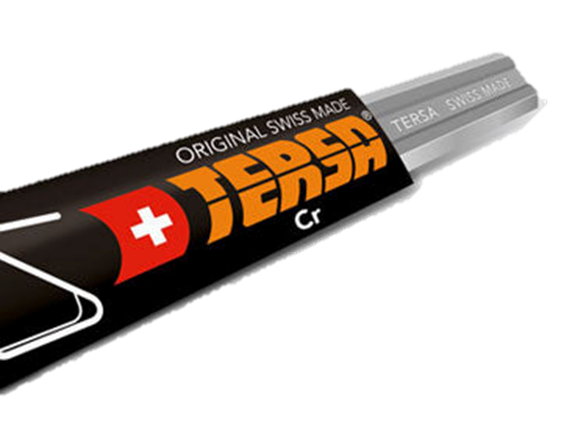 Tersa Chrome Steel Planer Knives
---
Chrome Steel Tersa™ Planer Knives are offered at a lower price than HSS and M+. Intended for working with soft woods and less likely to chip if used on dirty wood. A set of chrome blades can be used to clean the surface of dirty wood, then changed over quickly for HSS, M+ or carbide blades.
Not sure which Tersa knife to use? See our recommended knife for each wood here.
Your Order will be processed within 1-2 Business days. Prices shown are per knife.
Tersa™ Planer Knives are high quality products manufactured in Switzerland. Precision Tersa™ Planer Blades are suitable for Tersa™ Knife systems in planers, thicknessers, and automatic molders, etc.
Read more about the Tersa™ Knife system here.
Orders of $250 USD to the US or more will automatically qualify for free shipping at checkout.
---
More from this collection
Great FAST Service.
Great fast and friendly service.
Great Service!
I ordered a set of four HSS knives for my planer, and one Chrome Steel to fill out another spare set. Within minutes I got an e-mail from Gregory at Tersaknives who very alertly asked me to confirm the order of a single knife. Once confirmed, he got my order shipped same day, and my new knives arrived one day later. Great Service -- highly recommended. This is now my go-to source for knives for my planer. Jim Y - Northern CA