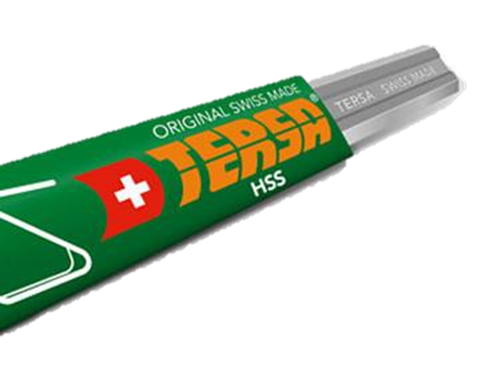 Tersa HSS (High Speed Steel) Planer Knives
---
High Speed Steel (HSS) Tersa™ Planer Knives are our most popular knife, and are the best choice for general woodworking on softwoods like fir, pine, and cedar. They give your product an exceptional finish. 
For hard woods you will want to use M+ knives, and for very hard or exotic woods you will find Carbide knives to be the best option.
Not sure which Tersa knife to use? See our recommended knife for each wood here.
Your order will be processed within 1-2 Business days. Prices shown are per knife.  
Tersa™ Planer Knives are high quality products manufactured in Switzerland. Precision Tersa™ Planer Knives are suitable for Tersa™ systems in planers, thicknessers, automatic molders, etc.
Read more about the Tersa™ Knife system here.
Orders of $250 USD to the US or more will automatically qualify for free shipping at checkout.
---
More from this collection
Tersa HSS (High Speed Steel) Planer Knives
Tersa knifes
Quick shipping, best price and availability,
EXCELLENT SERVICE!
The knives are great, but the service is amazing! Permanent customer here!
Excellent service and support.
We received excellent support and the feedback was very quickly and professionally.