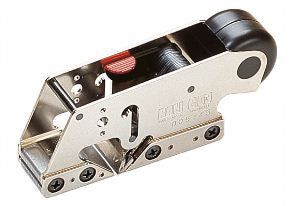 ---
Universal rebate plane. Specifications same as G30 except shorter and does not have throat adjustment or storage recess. Appropriate for site workers. RALI side fence optional.
Sole Dimensions: 105mm x 30mm
Instructions for adjustment with the RALI G03 N can be found here.
Orders of $250 USD to the US or more will automatically qualify for free shipping at checkout.
---
More from this collection
Rabbit Plane
I have several of these planes and use them daily. They get rough use and hold up well to job site abuse. The new version is basically as bullet proof as the old version, I'm just not as fond of the mechanism that locks the blade in place. The former roller wheel functioned easily. The new stamped plate is clumsy, a relatively minor detail!
Rail plane
Awesome plane
Been using them for 15 years